Psoriasis: What happens in your body?
In the past 15 years, research into psoriasis had reached multiple breakthroughs and has helped to elevate our knowledge on the disease and skin biology in general. The pathogenesis of the skin condition is quite complex. Researchers were able to better understand the pathogenesis of psoriasis and implement them to create better treatments and more specific therapies for psoriasis patients.
Psoriasis is an immune system-centric disorder in which the factors produced by the immune system trigger the excessive reproduction of skin cells. Excessive cytokines are released and would lead to the activation of the myeloid dendritic cells.
Cytokines are a group of protein molecules produced by the immune system that mediate and regulate immunity, inflammation and hematopoiesis. They play an important role in the process of inflammation. Cytokines are released by a variety of immune cells including macrophages, dendritic cells, natural killer cells and the adaptive T and B lymphocytes. The excessive release of cytokine causes the keratinocytes in the skin to upregulate the production of mRNAs, leading to the production of pro-inflammatory products. In addition, it also causes the superficial blood vessel to dilate and enlarges the vascular as a response to inflammation.
Dendritic cells are professional antigen-presenting cells that play a major role in the initial stages of psoriasis, but their activation remains unclear. Myeloid dendrite cells produce tumor necrosis factors TNF-α and Interleukins IL-23 with IL-12 that promote the proliferation of cells. IL-23 and IL-12 are responsible for the activation of natural killer T cells: Th 1 and Th 17. The activation of the T cells causes epidermal acanthosis and abnormal keratinocyte proliferation and an increase in the production of beta-defensins, CXC-chemokines and CCL-20.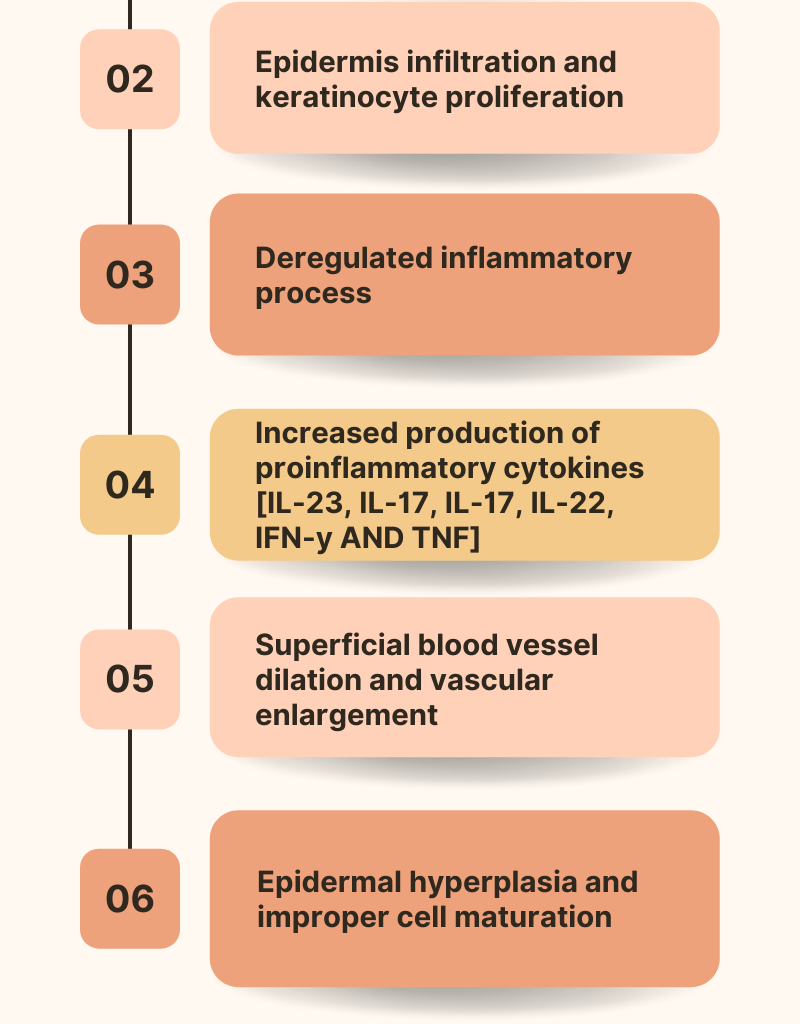 References:
Rendon, A., & Schäkel, K. (2019, March 1). Psoriasis Pathogenesis and Treatment. PubMed Central (PMC). https://www.ncbi.nlm.nih.gov/pmc/articles/PMC6471628/
Ogawa, E. (2018, March 1). Pathogenesis of psoriasis and development of treatment. Wiley Online Library. https://onlinelibrary.wiley.com/doi/abs/10.1111/1346-8138.14139
Armstrong, A. W., & Read, C. (2020). Pathophysiology, Clinical Presentation, and Treatment of Psoriasis. JAMA, 323(19), 1945. doi:10.1001/jama.2020.4006
Dolkar, D. (n.d.). Psoriasis. Slideshare. Retrieved September 30, 2021, from https://www.slideshare.net/dorjeedolkar/psoriasis-59383746